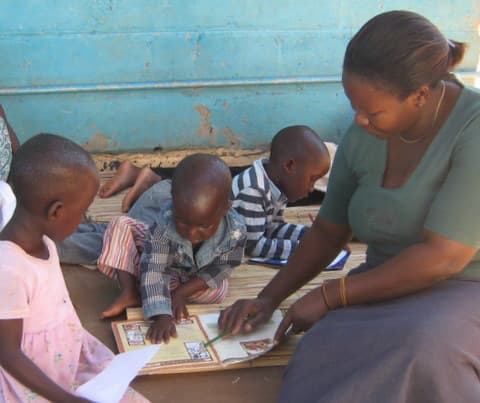 Gloria, 10, and her siblings Emmanuel, 8, and Georgina, 6, reunited with their aunt in Mulala Village on December 31, 2020, after spending years homeless.
Family Struggled After Father's Arrest and Mother's Mental Illness
The family lived in Dambwa site and service, Livingstone Township, when Gloria's father was arrested and sentenced to prison for an unknown offense. Gloria's mother, who had a history of mental illness, struggled even more after her husband's arrest. The family could not find food or shelter, and Gloria and her siblings were forced to beg on the streets.
After several months, no relatives could be located, and the children were admitted to Lubasi Home Care, a facility for orphaned and vulnerable children. At Lubasi Home, the children were given food, shelter, and education. They also received counseling to help them cope with the trauma of their experiences.
Two years later, Gloria's father was released from prison. He was still struggling to find work, and Gloria's mother was still receiving treatment for her mental illness. However, the family was hopeful that they could be reunited.
How Lubasi home helped
Lubasi Home conducted home assessments and investigations, and it was discovered that Gloria's aunt, who happens to be her mother's sister, was interested in taking care of the children. Gloria's aunt had a stable source of income and had been married to a man with a steady income. She was willing to help the children in any way possible.
Lubasi Home promised to continue sponsoring the children with school fees and uniforms when they reintegrated. A reintegration package was given to the children, and Gloria's aunt was given some money to help her with her business.
The children were reintegrated into their aunt's home on December 31, 2020. They are now happy and healthy, and they are continuing their education with the support of their aunt.
Now the Family's Future Looks Bright
Gloria's father is now doing some piece work and earning a living. Gloria's mother is still receiving treatment, but she is doing better. The government has recommended her for social cash transfer, which will help her with some basic needs.
The family is grateful for the support of Lubasi Home Care. They say that the facility saved their lives, and they are hopeful for the future.
Help change the world of a child with a family
Rather than placing vulnerable children in an orphanage, your gift can support children in families. When you give to Lubasi Home, you can change the world for a child. Help impact the lives of children and families by donating today. https://lubasihome.org/donate/